While you may have never heard about Sapira in the first place (after all, they are very recent), you probably already heard about Leesa mattresses. And you probably heard a lot of good things. After all, they are one of the best mattresses manufacturers in the world. They just keep surprising us with their latest features and designs.
And now, they just launched the Sapira Mattress.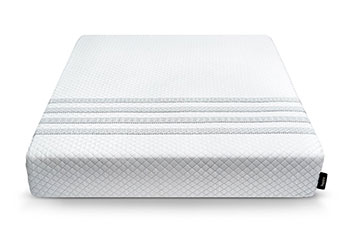 Click to Check Price on Amazon
So, what does the Sapira Mattress has to offer you? For starters, the Sapira Mattress has a thickness of 11 inches and it features 5 different layers of both foam and coils. One mattress like the Sapira Mattress, which includes different materials, is often called a hybrid mattress. So, let's take a look at each one of the 5 layers: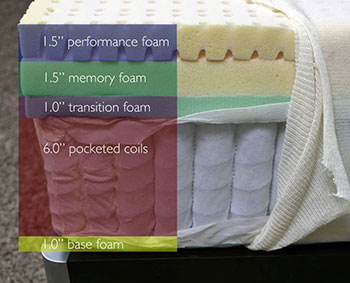 The top layer, with 1.5 inches, is made of a high-density foam. While it is not normal to see this kind of foam as the top layer, the truth is that it works pretty well. After all, it is able to provide you with a lot of support and comfort. Besides, this high-performance poly foam helps dissipate the heat.

The second layer, with 1.5 inches, is made of memory foam. The main goal of this layer is to allow a detailed contour of your body without heat retention or sinking. In addition, this layer also helps to reduce the pressure points.
The third layer, with 1 inch only, is the transitional layer and is made of poly foam, This layer only job is to provide a smooth transition from the memory foam to the pocketed coil layer.
The fourth layer, with 6 inches, is made of pocketed coils. We believe that the essence of this mattress resides here, in this layer, After all, it features the highest performance pocketed coil units on the market. With this layer, you can be sure that you will have more support in the areas that you need most and less support on the ones that you don't need as much.
The bottom layer, with 1 inch, is made of a poly base foam and acts as a support for all the above layers.
Click here to discover other top-rated memory foam mattresses.
The Sapira Mattress includes a highly breathable, stretchy, and soft cover that is made from a poly-Lycra blend. You can also expect for this cover to be durable.
In terms of firmness, the Sapira Mattress is between a medium firm and a slightly firmer feel (around 6.5-7 out of 10). While this mattress may seem to be a bit firmer for you, the truth is that it accommodates pretty well all kinds of sleeping positions.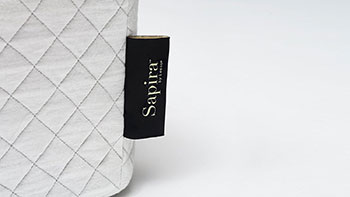 One of the things that we particularly like about the Sapira Mattress is that we were expecting to see a much deeper sinkage. And unlike many other hybrid mattresses, you can indeed use the Sapira Mattress right until the edge. The truth is that the Sapira Mattress edge support is one of the best on the market. So, if you tend to turn and toss a lot during the night and you sometimes end up on the edge, you can rest assured that you will remain comfortable and with all the support that you need.
Discover the what "features a good mattress needs to have."  [ http://www.mattressist.com/things-to-look-for-in-your-mattress-for-better-sleep-in-2018/ ]
The Sapira Mattress comes with a 100 night trial period and a 10-year warranty.