The LinenSpa mattress is an 8" memory foam and innerspring mattress that is well-thought and designed. The reality is that since it's made of memory foam, it will be able to provide you with the relieve on specific pressure points; however, since it's also an innerspring mattress, it will also provide you with a solid support.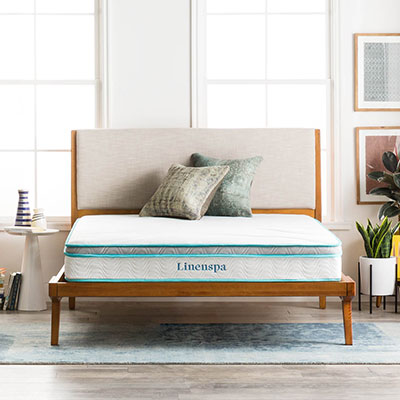 Click to Check Price on Amazon
This LinenSpa mattress has multiple layers: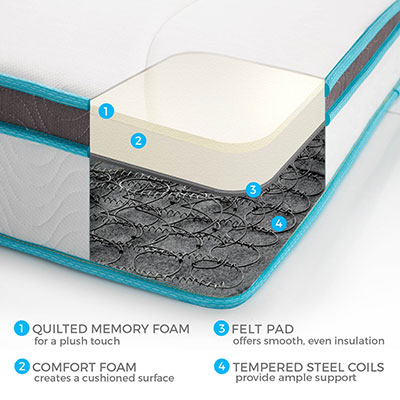 – The first and top layer is made of quilted memory foam that is incredibly soft to the touch. Plus, it also comes with a knit fabric mattress cover. According to different LinenSpa mattress reviews, your body weight will be evenly distributed providing relieve to your aches.
– The second layer is made from a comfort foam and it has 1.5 inches. This layer main job is to reduce the pressure points by making sure that the LinenSpa mattress is able to conform to your body's natural curves.
– The third layer, the felt pad, helps to separate the foam layer from the coils. This layer is the one responsible not only for durability as well as for the extra comfort since it serves as an insulator.
– The base layer, with 6 inches, is where you can find the tempered steel coils. This layer will be able to provide you with an amazing support for your back as well as the right bounce that most people like in an innerspring mattress.
Click here to discover other good foam mattresses.
One of the things that we really like about this LinenSpa mattress is the fact that is extremely comfortable. Even though some LinenSpa mattress reviews point to the fact that the mattress may be a little too firm, the truth is that most users who have already been using this mattress are loving it. One of the things that you'll notice is that you won't have any difficulty coming out of bed since it won't feel like you're sinking.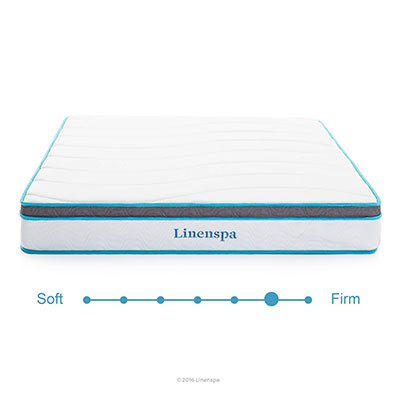 Plus, if your partner or you have a light sleep, the LinenSpa Memory Foam and Innerspring Hybrid Mattress may well be the right mattress for you. Since the top layer absorbs the motion transfer, even if you move a lot, your partner will be able to continue sleeping without even noticing it. 
Even though LinenSpa is a relatively new company (it was founded just in 2011), the truth is that they have been growing and they have some high-quality mattresses. To make sure you know how much they believe in their mattresses, when you buy the LinenSpa Memory Foam and Innerspring Hybrid Mattress you will get a 10 years warranty that covers any defects in materials.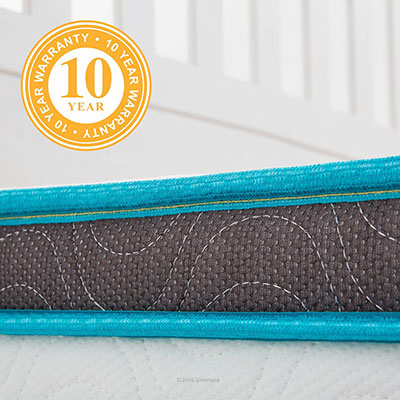 When you're buying a new mattress, one of the things that you need to make sure is that it is CertiPUR-US Certified. And this LinenSpa mattress is. This makes sure that the mattress doesn't contain any potential carcinogens such as flame retardants, heavy metals or formaldehyde.
Summing all up, this LinenSpa mattress is one of the best mattresses on the market that can provide you the support and pressure relief you need so that you can finally have a good night sleep, Since it's lightweight, you can easily move it. Plus, you can use it on platform beds with slats or with box springs.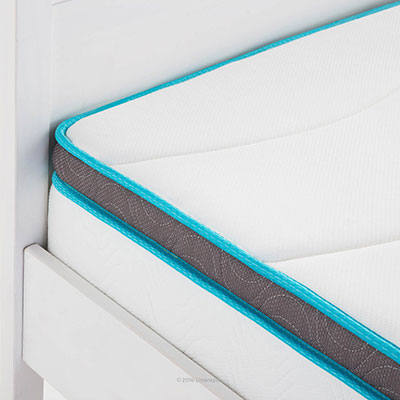 One of the best things is that the LinenSpa Memory Foam and Innerspring Hybrid Mattress is able to accommodate all kinds of sleepers and you won't notice that memory foam traditional smell upon unpacking.